Marital Rape in a Comparative Perspective of Indonesian Criminal Law and Islamic Criminal Law
Laely Wulandari

Fakultas Hukum Universitas Mataram

Lalu Saipudin
Keywords:
Marital Rape, Indonesian Criminal Law, Islamic Criminal Law.
Abstract
The aim of this research is to know how the regulation of marital rape in Indonesian Criminal Law and Islamic Law. Marital rape or also known as rape in marriage still belong to such a debatable and taboo topic, but in fact it has happened a lot in society. In Indonesian Criminal Law, marital rape is not regulated in the Criminal Code. The Law on the Elimination of Domestic Violence regulates this as a complaint offense by calling the crime of sexual violence. In Islamic Law, marital rape is regulated in a good way by terms of husband and wife intercourse, among others in Surah An-Nisa Verse 19 which prohibits having to do with coercion. Refers to these results of the comparison, similarities are found in both Indonesian Criminal Law and Islamic Criminal Law that said marital rape is prohibited. The differentials in the form of complaint offense between these laws. Islamic Criminal Law does not explain clearly about the complaints offense as known on Indonesian Criminal Law. Yet this law comprehensibly prohibiting the marital rape itself. For the further regulations of criminal law policies, it should take the principles of discrimination into account and the good boundaries regarding marital rapes, criminal liability, criminal threats and formal criminal arrangements either.
References
Books:
Andi Hamzah. (2012). Perbandingan Hukum PidanaBeberapa Negara. Jakarta: Sinar Grafika,
Ann Brooks. (1997). Posfeminisme dan Culture Studies, Yogyakarta: Jalasutra.
Barda Nawawi Arief. (2013). Perbandingan Hukum Pidana. Jakarta: Rajagrafindo Persada.
-------. (2005). Beberapa Aspek Kebijakan Penegakan dan Pengembangan Hukum Pidana. Bandung: Citra Aditya Bakti.
-------. (2005). Bunga Rampai Kebijakan Hukum Pidana. Bandung: Citra Aditya Bhakti.
Beni Ahmad Saebani. (2016). Perbandingan Sistem Hukum Pidana. Bandung: Pustaka Setia,
Darji Darmodiharjo dan Shidart. 1996. Penjabaran Nilai-Nilai Pancasila Dalam System Hukum Indonesia. Jakarta: Raja Grafindo.
Chairul Huda. (2006). Dari Tiada Pidana Tanpa Kesalahan Menuju Kepada Pertanggungjawaban Pidana Tanpa Kesalahan. Jakarta: Kencana.
Esmi Warasih, Pranatahukumsebuahtelaahsosiologis, Suryandaru Utama Semarang, 2005
Forum Kajian Kitab Kuning (Fk3). (2003). Wajah Baru Relasi Suami Istri ,Telaah Kitab 'uqud al Lujjayn. Yogyakarta: Lkis.
Hamdanah. (2005). Musim Kawin di MusimKemarau, StudiatasPandangan ulama Jembertentanghak-hakreproduksi Perempuan. Yogyakarta: Bigraf Publishing.
M. Nurul Irfan, Hukum Pidana Islam, Sinargrafika Jakarta, 2016
Mustafa Daib al-bigha dalam Muhammad Yunus. (2018). Marital Rape (perkosaan dalam perkawinan) ditunjau dari perspektif Hukum Islam dan Hukum Indonesia, Program Studi Perbandingan Mazhab Fakultas Syari'ah dan Hukum. Unversitas Negeri Islam Negeri Syarif Hidayatullah, Jakarta.
Peter de Cruz. (2012). Perbandingan Sistem Hukum Common Law, Civil Law dan Sosialist Law. Bandung: Nusa Media.
P.A.F Lamintang dan Theo Lamintang. (2011). Delik-Delik Khusus Kejahatan Melanggar Norma Kesusilaan dan Norma Kepatutan. Jakarta: Sinar Grafika.
Ratna Megawangi. (1999). Membiarkan Berbeda, Sudut Pandang Baru Tentang Relasi Gender. Bandung: Mizan.
Ronni Rahman Nitibaskara. (2018). Ragam dan Jenis Kejahatan Kontemporer Di Indonesia. Jakarta: UMJ Press Publishing.
Romli Atmasasmita. (2009). Perbandingan Hukum Pidana. Bandung Mandar Maju,
Ridwan M. AG. (2206). Kekerasan Berbasis Gender, Pusat Studi Gender. Purwokerto: Sekolah Tinggi Agama Islam Negeri (STAIN).
R. Soesilo. (1994). Kitab Undang-Undang Hukum Pidana (KUHP) serta Komentar-Komentarnya Lengkap Pasal Demi Pasal. Bogor: Politea
Topo Santoso. (2000). Mengagas Hukum Pidana Islam, Penerapan Sariah Islam dalam konteks Modernitas. Bandung: Asy Samsul, ,

Journal articles:
Titin Samsudin, Marital Rape sebagai Pelanggaran Hak Asasi Manusia, Jurnal: Al-Ulum, Volume 10, Nomor 2 Desember 2010, p. 339-354
Evy SeptianaRachman, Marital Rape dalam Perspektif Hukum Islam (Kajian Epistimologi) Jurnal Ilmu Hukum: Justicia Sains, Vol, 04 no. 01 Juni 2019
World Wide Web:

Fajri M. Muhammad, S.H, LLm. PhD. Islam dan Marital Rape, Antara Kesalahfahaman dan Kebenarfahaman, Thisisgender.com, diaksestanggal 20 Februari 2020
Nur Rofiah, The conversation.com. Larangan Islam ataspemerkosaandalamperkawinan, diakse stanggal 20 oktober 2020.
Elang M.L. Marital Rape dalam Perspektif Hukum Islam, www. Kompasiaa.com. diakses tanggal 21 Februari 2020
Septianita Azalea, Marital Rape dalam Pandangan Islam, 29 april 2020, apikartini.org, diakses tanggal 14 oktober 2020.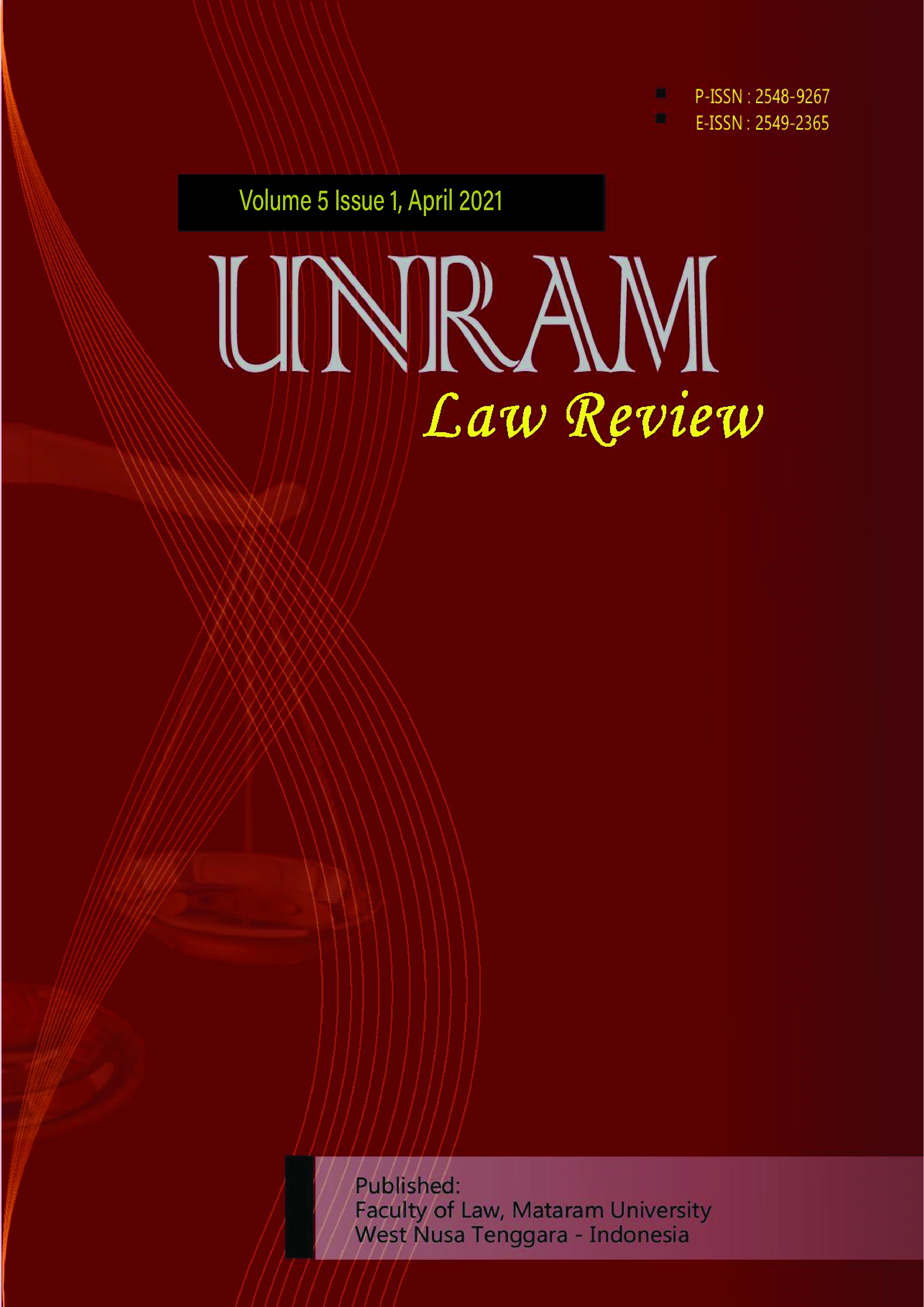 This work is licensed under a Creative Commons Attribution-NonCommercial 4.0 International License.
Copyright holder by Author