Myanmar Coup and Connections of International Network Terrorism Affiliate in Transnational Legal View
Muhammad Nuha Maulana Pasya

Universitas Muhammadiyah Yogyakarta

Yeni Widowaty

Universitas Muhammadiyah Yogyakarta
Keywords:
Terrorism, Myanmar, ASEAN
Abstract
The international community nowadays currently encountering the most serious problem in the face of terrorism. Today, terrorism has destroyed and disrupted the state process. Universally terrorism is the hostist humani generis (the enemy of all mankind). Today terrorism is directed not only against individuals and groups but towards a larger entity, namely the state, and also creates problems and dangers felt by the international community. The variety of terrorist groups is different, from radical issues to political issues. Myanmar is one of the countries in Southeast Asia, and has one of the areas called Rakhine and there are ethnic Rohingya who inhabits the region. Genocide, discrimination, and racial cleansing are three general issues that exist in myanmar. The Myanmar government accuses being terrorists affiliated with international terrorism established due to the butterfly effect of the three things above. The countries in southeast Asia unite themselves and form an international organization called ASEAN, making protection against terrorism that surrounds the southeast Asian region. Therefore, this article was made to find out the cause and countermeasures of terrorism. This research is a normative qualitative approach with a constructive paradigm with the international law
References
Agustina, S. (2006). Hukum Pidana Internasional dalam Teori & Praktek. Padang: Andalas University Press.
Alam, M. A. (2013). Historical Background of Arakan. Kaladen Press.
Arifin Sudirman, d. D. (2017). MEMBANGUN KEAMANAN REGIONAL DI ASEAN DALAM MENANGGULANGI ANCAMAN TERORISME. Jurnal Wacana Politik, 22-32.
Cassese, A. (2003). International Criminal Law. New York: Oxford University Press.
Dittmer. (2010). Burma vs Myanmar. What's Is the Name. River Edge: Wold Scientific Publishing Co.
Ervina Fredayani, J. A. (2019). Alasan Pembentukan Kerja Sama Keamanan ASEAN-Australia dalam Menghadapi Isu Terorisme. Insignia Journal of International Relations Vol. 6, No.2, 94-105.
Fitriliani, Y. (n.d.). JURISDIKSI NEGARA DALAM KEJAHATAN TERORISME. Jurnal Hukum Vol. 4 No.1, 208-223.
G, J. (1994). Foregn Policy of Bangladesh, Rohingya Imbroglio: The Implication for Bangladesh In S. R. Chakarvaty.
Godrej, D. (2008). A Short History of Burma. New Internationalist.
Gulton, E. H. (2006). Kompetisi Mahkamah Pidana Internasional, dan Peradilan Terhadap Kejahatan di Timor-Timur. Jakarta: Tatanusa.
Hiariej, E. O. (009). Pengantar Hukum Internasional. Jakarta: Erlangga.
Jhony, I. (2006). Teori dan Metodologi Penelitian Hukum Normatif. Malang: Bayu Media.
Jordan j. Paust, M. C. (1996). International Criminal Law. Cases and Material.
Komariah, M. (n.d.). Kajian Tindak Pidana Terorisme Dalam Presfektif Hukum Pidana Internasional.
Latifah, A. N. (2018). PERAN ASEAN DALAM MENANGGULANGI TERORISME DI LAUT SEBAGAI ANCAMAN TERHADAP KEAMANAN MARITIM. Belli ac Pacis. Vol. 4. No.1, 21-30.
M. Riza, S. (2006). Dimensi Internasional Terorisme. Jakarta: Spektrum.
Majeska, H. (1999). The Sociology and Physychologi of Terrorism: Who Becomes a Terrorist and Whay? Washington D.C: Federal Research Division Library of Congress.
Milar, P. (2017). Sizing up the Shadowy Leader of the Rakhine State Insurgency. Southeast Asia Globe Magazine.
Nalom. (2017). Kasus Rohingya dan Tanggung Jawab Negara dalam Penegakan Hak Asis Manusia Rohingya case and State Responsibilyy in the Enforcement of Human Rights. Jurnal Konstitusi, Vol.14, No.4, 883-900.
Namora, G. A. (2016). PERAN ASEAN CONVENTION ON COUNTER TERRORISM DALAM PENANGANAN TERORISME DI FILIPINA PERIODE 2011 – 2013. Journal of International Relations, Volume 2, Nomor 4, 170-179.
Nasution, A. R. (2018). Penegakan Hukum Terhadap Tindakan Terorisme sebagai 'Extraordinary Crime' dalam Perspektif Hukum Internasional dan Nasional. TALENTA Conference Series: Local Wisdom, Social and Arts, 008-014.
Rachmayanthy. (2016). TINDAK PIDANA TERORISME DARI PERSPEKTIF HUKUM PIDANA INTERNASIONAL. Jurnal Surya Kencana Dua: Dinamika Masalah Hukum dan Keadilan Vol. 3 No. 1.
Republic of Myanmar. (2018). The Republic of the Union of Myamar Anti-terrorsm Central Committee Statment. Myanmar: Republic of Myanmar Central Committee.
Rivanie, S. S. (2020). PENGADILAN INTERNASIONAL DALAM MEMBERANTAS TINDAK PIDANA TERORISME: TANTANGAN HUKUM DAN POLITIK. Sovereign: Jurnal Ilmiah Hukum Vol. 2, No. 3, 16-27.
Roberstson, G. (2002). Kejahatan Terhadap Kemanusiaan; Perjuangan Untuk Mewujudkan Keadilan Global. Jakarta: Komisi Nasional Hak Asasi.
Sudirman, P. O. (2021). Penanggulangan Terrorisme di ASEAN Melalui Our Eyes Intiatiatives: Studi Mengenai Cooperative Securty. Insignia Journal of International Relations Vol.8, No.1, 71-86.
Sulaiman, K. F. (2007). Who is The Real Terrorist? Menguak Mitos Kejahatan Terorisme. Yogyakarta: Elementera Publishing.
Tentua, E. M. (2020). ALASAN-ALASAN SUATU TINDAK PIDANA DAPAT MASUK KATAGORI KEJAHATAN INTERNASIONAL. Jurnal Juristic Vol.1 No.2, 251-255.
Ufran. (2019). The Resolution of Gross Human Rights Violations Through Mechanism National Court and International Criminal Courts. IUS Kajiah Hukum dan Keadilan Vol 7 No.1, 174-179.
Ullah, A. A. (2011). Rohingya Refuges to Bangladesh: Historical Exclusions and Contemporary Marginalization. Journal of Immigration & Refugee Studies Vol 9, 2.
Vyer, J. V. (n.d.). Prosecuting Terrorism in International Tribunal. Emory Law, 572.
Wibowo, J. E. (2021). ANALISA YURIDIS UPAYA PENANGGULANGANTERORISME SEBAGAI KEJAHATAN LUAR BIASA. Jurnal Education and development Institut Pendidikan Tapanuli Selatan Vol.9 No.2, 12-17.
Yeni Widowaty, T. D. (2021). Law Enforcement of Land Transfer from Agricultural Land to Housing in Indonesia. E3S Web of Conferences 232, (pp. 3-19). Indonesia.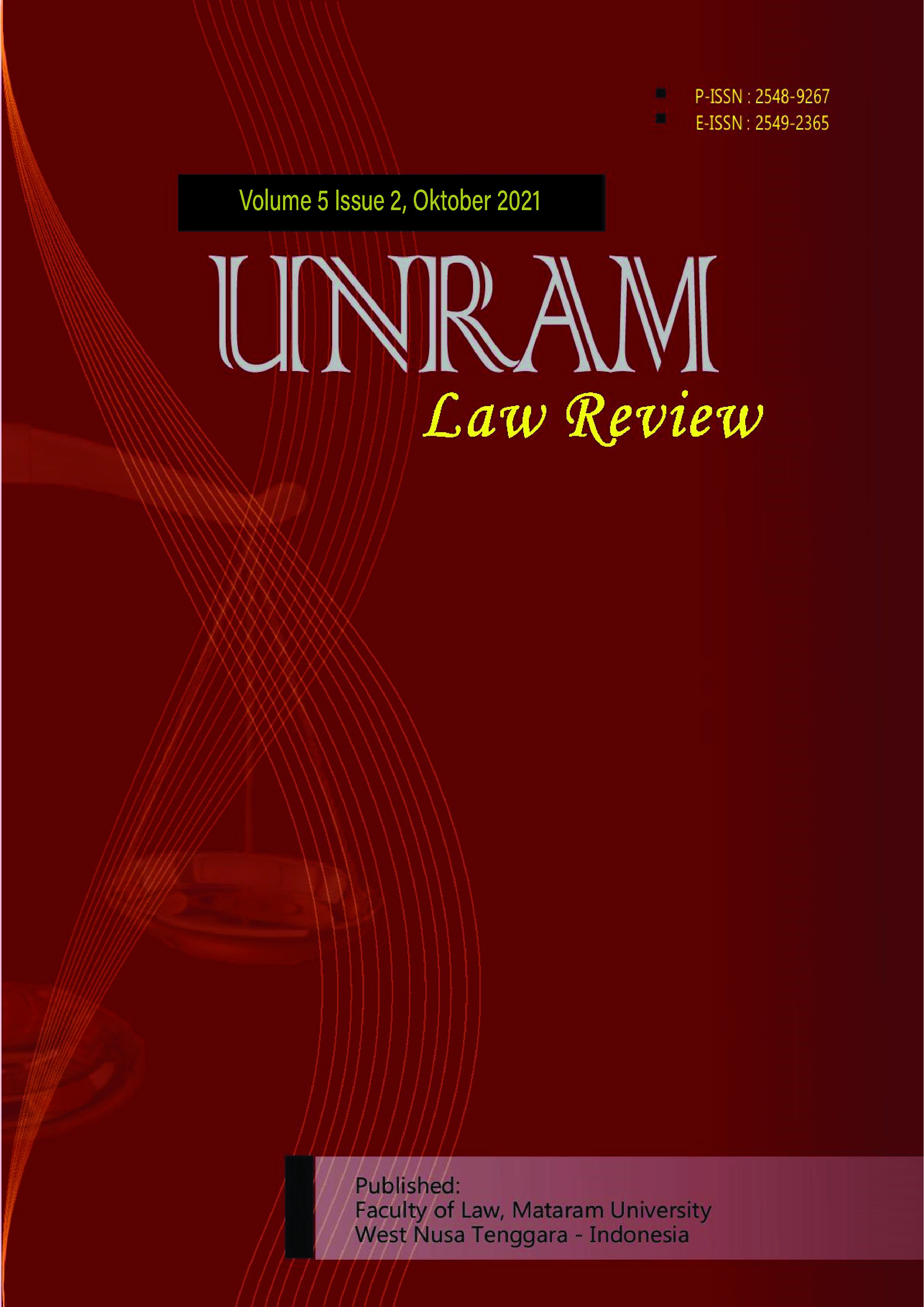 This work is licensed under a Creative Commons Attribution-NonCommercial 4.0 International License.
Copyright holder by Author