The Prevention on Child Sexual Tourism in Lombok (The Province of West Nusa Tenggara), by Virtue of the Act Number 35 Year 2014 Concerning the Child Protection
Any Suryani Hamzah

Fakultas Hukum Universitas Mataram

Mohammad Irfan

Fakultas Hukum Universitas Mataram
Keywords:
Tourism, Sexual, Child, Protection
Abstract
There are two types of child criminals in the tourism sector, there are preferential crime and situational sexual child crime. The preferential is a crime on children sexual oriented, the perpetrator put the children as a target to satisfy their sexual demand, and they have always been looking for children in order to fulfill their sexual desire. In this sense, they take an advantage from tourism facilities to find the children particularly the child on a tourism destination. The criminal threat to the child sexual crime is regulated under criminal codes, and The act number 35 year 2014 Concerning The Child Protection. Lombok island as a tourism object face this threat. Therefore the aim of this research is to determine the prevention act conducted by the stae and communinities on the tourism section by virtue of the Act Number 35 Year 2014. The research method in this paper using empiric juridical study by conducting primary data which collected directly from the resources who are the respondent and interviewees. Further, it is completed by secondary data which collected through the library conduct. The conclussion of this study; the are numerous prevention acts conducted by the state and communities to fight against child sexual exploitation, namely; forming the group to fight against human trafficking in every village of Lombok Island, and implementating a task force in the province of West Nusa Tenggara.
References
Farhana. (2012). Aspek Hukum Perdagangan Orang di Indonesia. Jakarta: Sinar grafika

Henny Nuraeny, (2011). Tindak Pidana Perdagangan Orang. Kebijakan Hukum Pidana dan Pencegahannya. Bandung: Sinar Grafika.

LM Ghandhi Lapian& Hetty A. Geru. (2010). Trafikking Perempuan dan anak, Buku Obor. Jakarta: Yayasan Obor Indonesia.

Ahmad Sofian. (2019). Penegakan Hukum Wisatawan Pelaku Kejahatan Seksual Anak. Available from: www.businesslawbinus.ac.id [Accessed: 27 August 2019].

Binti Mufarida. (2019). Waspadai Perdagangan Orang melalui industri pariwisata. Available from: www.sindonews.com [Accessed: 11 August 2019].

Lalu Rahadian. (2019). Human Trafficking, Sisi Kelam Industri Pariwisata?. Available from: www.bisnis.com. 15 Juli 2019 [Accessed: 23 September 2019].

www.kompas.com. Eksploitasi Seks Anak di Bali, Lombok, dan Batam Mengkhawatirkan. Available from:https://travel.kompas.com/read/2009/03/20/17092794/eksploitasi.seks.anak.di.bali.lombok.dan.batam.mengkhawatirkan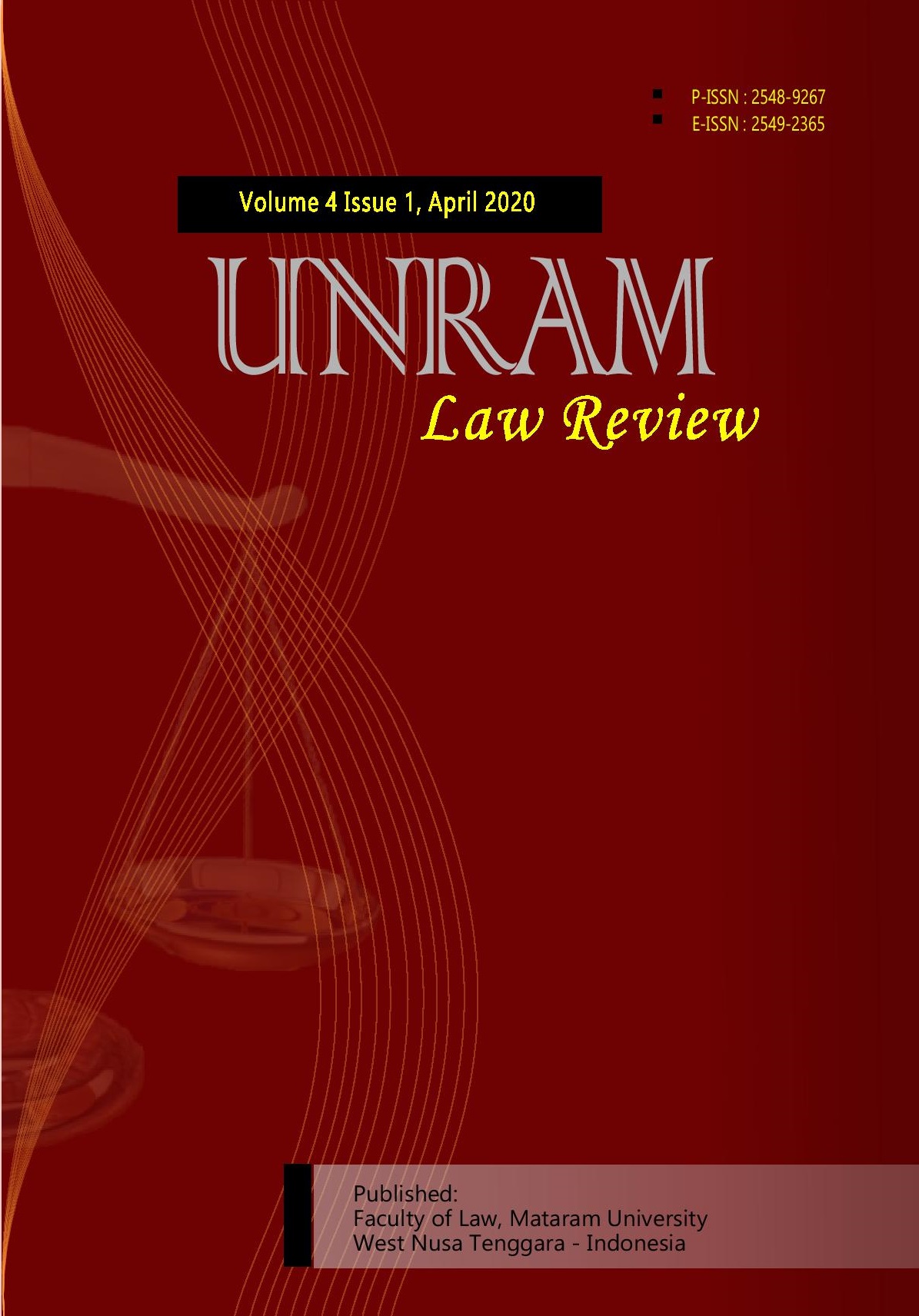 This work is licensed under a Creative Commons Attribution-NonCommercial 4.0 International License.
Copyright holder by Author