Implementation Of Fulfillment Of Workers' Wage Rights With A Particular Time Working Agreement System At Pt.X
Adila Azani

University of Indonesia

Siti Hajaiti Hoesin

University of Indonesia
Abstract
Legal regulations regarding wages should be the basis for employers/entrepreneurs to implement provisions regarding the fulfillment of wage rights for workers. However, the problems that often occur in the field are fulfillment of wage rights by employers to workers who are not subject to these legal provisions. One of the facts that happened to PT. X has 150 employees under the PKWT system and all of these workers receive wages below the minimum wage stipulated by the government in the current year.This is of course contrary to the provisions of labor law in the field of wages, in particular the provisions of Article 90 paragraph (1) of the Manpower Law. Based on the description of the background, the problems studied in this study are: 1. How is the implementation of the fulfillment of workers' wage rights with a certain time work agreement system at PT. X?. 2. How is the implementation of local labor inspection in fulfilling workers' wage rights with a certain time work agreement system at PT. X?. This study uses a juridical-sociological approach and descriptive research, interview data collection techniques and document studies. Based on the research conducted, the results obtained are: 1. Implementation of the fulfillment of workers' wage rights at PT. X has not been implemented as the legal provisions in the field of employment, there are 4 main legal problems that occur, namely the payment of wages below the minimum wage, payment of wages is often late than the agreed time between workers and PT. X, payment of wages for sick workers and components of wages that are not in accordance with legal provisions. 2. The implementation of labor inspection has not been implemented properly in enforcing labor norms at PT. X especially in terms of fulfilling workers' wage rights.
References
Aloysius Uwiyono, et.al., Principles of Hunting Law, Jakarta : PT. Raja Grafindo Persada, 2014.

Safri Nugraha, State Administrative Law: Revised Edition, Jakarta: Center For Law and Good Governance Studies (CLGSFHUI), 2007.

Soerjono Soekanto, Introduction to Legal Research, Jakarta: University of Indonesia Publisher (UI Press), 1986.

_______________, Factors Affecting Law Enforcement, Jakarta: Raja Grafindo, 1983.

Kadek Agus Sudiarawan and Putu Ade Hariestha Martana, "Legal Implications of Regulating Sectoral Minimum Wages in Badung Regency for Business Actors in the Tourism Sector in Badung Regency, Bali Province", Law Supremacy: Legal Research Journal, Vol. 28, No. 1, (January 2019).

Lidia Afrilia, "Disabled Procedures for Determining the Sectoral Minimum Wage for Regency/City (UMSK) Gresik, East Java 2019", Media Iuris Vol. 2 No. 3, (October 2019).

Penny Naluria Utami, "Minimum Wage Determination in Improving Welfare for Workers", Sosio Informa Vol. 5, No. 02, (May – August 2019).

Suhartoyo, "Legal Protection Regarding Wages for Workers/Labourers With Work Agreements for a Certain Time", Administrative Law & Governance Journal. Volume 3 Issue 3, (September 2020).

Heru Suyanto and Andriyanto Adhi Nugroho, "Legal Protection of Outsourcing Workers' Rights Based on the Principle of Justice", Article accessed on May 5, 2021 through https://ejournal.upnvj.ac.id.

Indonesia, the 1945 Constitution of the Republic of Indonesia.

________, Law of the Republic of Indonesia concerning Manpower, Law Number 13 of 2003.

_________, Law of the Republic of Indonesia concerning Job Creation, Law Number 11 of 2020.

________, Government Regulation on Wages, Government Regulation Number 78 of 2015.

________, Regulation of the Minister of Manpower concerning Procedures for Labor Supervision, Ministerial Regulation Number 33 of 2016.

Jakarta, Regulation of the Governor of DKI Jakarta Province concerning the Provincial Minimum Wage of 2020. Governor Regulation Number 103 of 2020.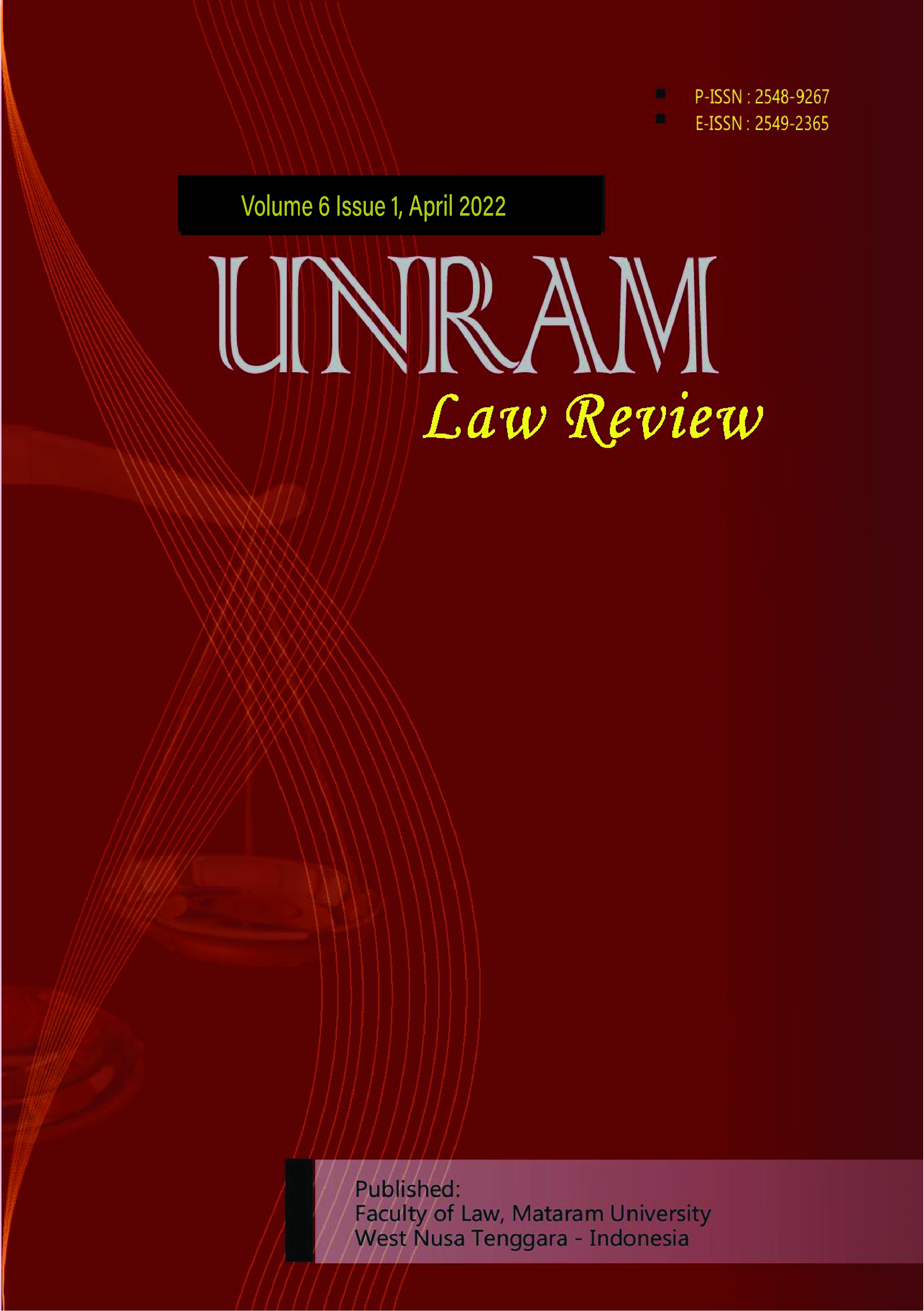 This work is licensed under a Creative Commons Attribution-NonCommercial 4.0 International License.
Copyright holder by Author